We're in the single digits! Love on the Lake releases on March 15th and I have a sneak peek of chapter one just for you!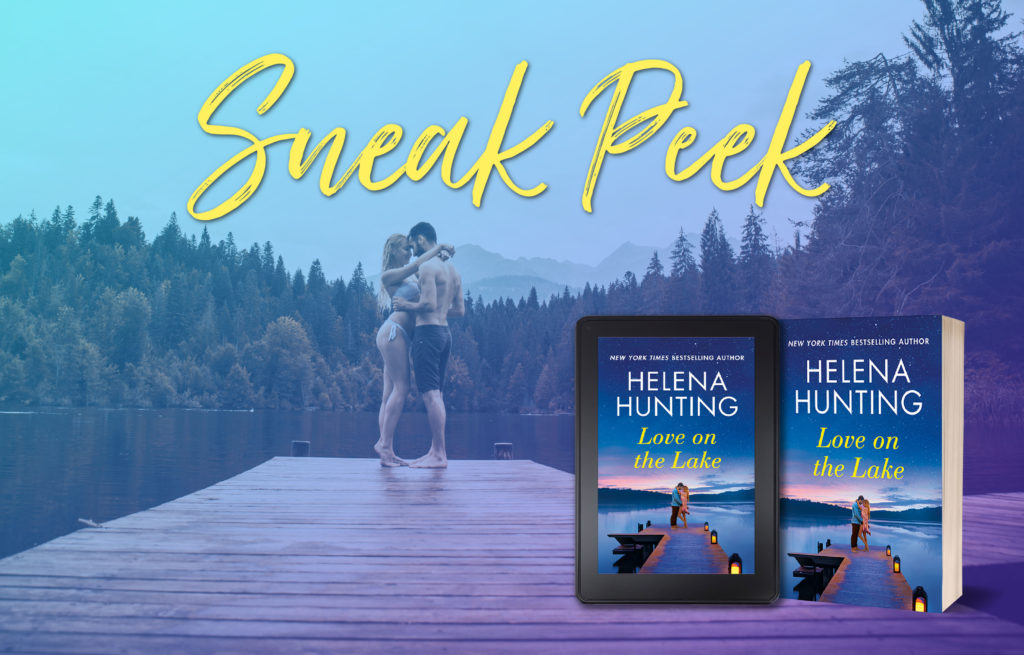 Chapter One
WELCOME TO YOUR NEW LIFE
Teagan
"Uh, Dad, I think you need to come here!" I shout. For a panicked moment I question what fresh hell this morning has brought with it.
A moving truck is backing into our driveway.
Less than a year ago we downsized from a seven-thousand-square-foot mansion we could not afford—unless we planned to sell most of our major organs—to a two-thousand-square-foot home. For nearly two decades my dad used excessive spending as a way to mourn the loss of my mother, God rest her beautiful soul. It took a family scandal for him to realize that he needed to make some very important changes in his life, which included putting an end to spending money he didn't have.
I abandon the care package I'm in the middle of putting together for my younger brother and am halfway across the room when my dad appears in the doorway, his expression reflecting his concern. "What's going on?"
"I don't know. You tell me." I motion outside, where the moving truck continues to beep as it backs up toward the garage. "Please tell me we don't have to move again."
"Oh! Oh no, Teagan." He comes to stand next to me and gives my shoulder a squeeze. "No, we don't have to move. I meant to talk to you about this before today."
The moment of relief is quickly replaced by confusion. My father looks . . . chagrined? "Talk to me about what?"
"Just give me a moment. I need to open the garage door, and then we can have a chat." He rushes off, and soon after, I hear the garage door whir open. One of the movers hops out of the passenger side of the truck, and my dad approaches him.
If we're not moving out, it means that someone else is moving in. It's not either of my brothers—my youngest brother, Bradley, is in prison, hence the care package I'm putting together. Sometimes I wonder if he wouldn't have ended up where he is if I'd been a better big sister. My older brother is living in Pearl Lake with his fiancée—which leaves only one other potential option.
I watch while two men wearing matching T-shirts and old ripped jeans begin carrying boxes and furniture into the garage. I recognize one of the chairs they bring inside. It's in the photo Dad has as his screen saver, of him and his girlfriend of six months.
I go back to packing Wall Street Journals and new notebooks into the box. I want to make sure it gets in the mail today so Bradley has it for the weekend. A few minutes later Dad reappears in my doorway.
"Danielle is moving in with us," I say without looking at him.
"She called last night to let me know the movers rescheduled the truck for today instead of Saturday. I meant to talk to you about it before they arrived this morning, but I didn't realize you were already awake, and I didn't want to disturb you. I didn't mean for it to be a surprise, honey."
I glance at the clock on my nightstand. It's nine thirty in the morning. On a Wednesday. It's our work-from-home day, and Dad always tells me I can sleep in. Something I never actually do.
The fact that his plan was to give me a few hours' notice about our new roommate isn't a big surprise. Half of his life choices seem to be afterthoughts.
I force a bright smile. It's not that I don't want him to have someone in his life. If anyone deserves happiness, it's my dad. He's had enough turmoil and strife to last several lifetimes. "You and Danielle have been spending a lot of time together. I think it's great that you've decided to take the next step in your relationship." It's not even that I'm worried about Danielle moving in so soon after they've started dating. The issue is more that I'm in my midtwenties and still living with my dad. I even suggested I get my own place when he downsized. But it was on the heels of my breakup with my long-term boyfriend, and my dad said he would be lonely without me. And that he would miss all my baking, so I moved along with him. And now this.
He gives me an apologetic smile. "I meant to sit down and talk with you. Danielle was worried. I know we haven't been together that long."
"When you know, you know, right?" Six months isn't long, but it isn't short either. And my dad's been on a dating hiatus for the past two decades, so to him, this probably feels monumentally long.
He smiles down at me. "I'm so relieved to hear you say that. I know you and Danielle will get along great."
"We absolutely will." I nod, trying to assuage his concern.
Danielle is a nice lady. She's about ten years younger than my father and also lost a spouse. They met at group therapy and started spending time together as friends. She's been by the house plenty of times over the past six months, usually before she and my dad go on one of their dates. They do a lot of biking and trail walking and going on dinner dates. She and I have made small talk, but that's been about it.
"We didn't expect the truck to get here this early, so she won't be here until after work. I could arrange takeout for dinner? Maybe we could order from that sushi restaurant you two love?"
The thought of sitting down for a "family" dinner on the night my father's girlfriend moves into the house is unappealing. If I were moving into my boyfriend's house, I wouldn't want a third wheel around to spoil the excitement. Especially in the form of an adult daughter.
"Actually, Dad, I'm supposed to visit Van in Pearl Lake this weekend. I was planning to go on Friday, but I could head up there early, and that would give you and Danielle a chance to get things settled." My brother Van casually suggested I come visit him soon, as he does almost every time I talk to him, but I didn't make a commitment to go. Hopefully he doesn't mind me spontaneously dropping by, and in the middle of the week, with a plan to stay for several days.
A furrow creases his brow. "I didn't know you were going to see Van."
"Oh? I thought I mentioned it," I lie.
"I don't want you to feel like you have to leave early because Danielle is moving in."
I wave a dismissive hand in the air. "Van won't mind. He's been renovating the upstairs of the garage into a one-bedroom apartment, and it's nearly finished. Are you okay with me taking a long weekend?"
"Of course—you rarely take time off."
"I'll pack a bag and tell Van I'm on my way up. It's supposed to be gorgeous there this week. Unseasonably warm for late April. I'll take a couple of books with me and enjoy some sunshine and relaxation and time with my brother." And I can fill his freezer with homemade dinners like I did last time. He and Dillion both work long hours, and Van loves having ready-made meals to pull out of the freezer when the two of them are working late.
"You really are the best daughter a father could ask for. Thank you." He pulls me in for a hug and kisses me on top of my head, like I'm six, not twenty-six. "Maybe I'll set up something romantic for Danielle. That would be nice, wouldn't it?"
"Absolutely!" And this is exactly the reason I don't want to be here this weekend. I don't have a problem with my dad doing romantic things for Danielle, but I don't need to witness it.
He nods and spins around, a hop in his step as he makes his way down the hall to his office. I close my bedroom door and sag against it. I rub the space between my eyebrows, trying not to frown or furrow. Portia, my ex–best friend, always used to tell me that I should never show any emotion unless it was happiness if I didn't want premature wrinkles. I blow out a breath. Normally I would call my brother, but if I hear his voice I'm going to want to spill the beans over the phone. This would be a much better conversation in person, so I send him a quick message instead.
Teagan: How close is the garage to being ready for occupancy?
Van: 85-90%. Why what's up?
Teagan: Thinking about taking a couple vacation days if you don't mind a guest for the weekend.
Van: You know you're always welcome. When you heading this way?
Teagan: In an hour or so if that's okay?
The dots appear and disappear a couple of times. I'm about to tell him I can hold off until tomorrow or Friday, but another message pops up.
Van: For sure, you know how to get in. Dillion asks that you bring the stuff for those gin cocktails you make.
Teagan: Will do! See you soon!
Half an hour later I have my bags packed. I put the gin and cocktail mix into a box, along with a couple of bottles of wine, and toss my prescriptions into my purse, checking to make sure I have enough to get me through until the end of the weekend.
I stop by my dad's office on my way out and tell him I'll be back on Sunday night and to have a great weekend with Danielle. And then I'm in my car and on my way to Pearl Lake.
I stop at the post office to mail the care package to Bradley and grab a coffee to perk me up. I pull my hair into a ponytail so I can put the top down on my convertible and enjoy the fresh air and the sunshine. While we had to get rid of most of the cars when we downsized and consolidated my dad's debt, I was able to keep my convertible. But only because I was the one who'd bought and paid for it. I've had it since I was eighteen, and it has sentimental value more than anything.
It's also not super flashy as far as convertibles go. It has a hard top for winter and a soft top for summer. It's probably one of the very few things I still have from our previously lavish and frivolous lifestyle. Over the past year I've gone from weekly spa appointments and expensive dinners out several times a week to painting my own toenails and learning how to cook meals. I had no idea how pampered I was until I wasn't anymore. And honestly, I don't miss it that much.
The highway soon turns into tree-lined two-lane roads, the brush growing thicker and increasingly lush with every passing mile. The farther I get from Chicago, the easier it is to breathe. I try to appreciate the beauty of the drive and not think about Dad and Danielle or what the house is going to look like when I get back on Sunday.
I arrive in Pearl Lake just after noon. A Footprint Construction truck is parked in the driveway, in front of the garage, which isn't unusual. Dillion is Van's fiancée, and they've been living together for months. She often drives into work with her father, who owns the construction company in town, since she and Van live right next door to her family.
I decide I should go ahead and make myself comfortable in the apartment above the garage rather than heading for their love shack. If I don't, there's a chance that they'll try to convince me to sleep in one of the spare rooms in the cottage.
I grab my suitcase from the trunk and heft my weekend bag over my shoulder, along with my purse. It's a lot for a long weekend, but I've never been particularly good at packing light.
Originally, Van planned to convert the garage into a self-contained apartment, but he decided it would be better to keep the garage space as is, and instead he ripped off the roof, added dormers, and turned the space above it into an apartment. That way, the garage still functions as it should.
It has a small workshop, loads of tools, and Van's BMW, which he rarely drives anymore, favoring the ancient pickup truck that once belonged to Grammy Bee, our grandmother, who drove it until she passed away a year and a half ago. She left the cottage and its contents to Van. Turns out there was literally millions in uncashed bonds and piles of cash tucked all over the cottage. I tried to tell him I didn't want any of it, but he set up an investment account for me. I plan to leave it where it is until I retire, or maybe pass it on to my own kids one day, if I have any.
There's a set of stairs inside the garage that aren't as steep as the ones that run up to the second floor from the outside. But I can't remember the code to open the garage door, so this is my only option.
I manage to clunk my way up the outside staircase with my suitcase in one hand and my other bags hanging over the railing. The landing is small and narrow, making it difficult to maneuver with my bags.
I turn the knob, assuming it will be open, since the only reason people lock their doors around here is to keep out the wily raccoons. I step inside and drop my purse and overnight bag on the floor, which I instantly regret because the surface is still plywood—so much for 85 percent finished—and there's a lot of sawdust.
My suitcase is still on the landing and the door wide open when I realize I'm not alone in here. It's also not a raccoon keeping me company. Or a family of squirrels. Or bats.
Beyond the spiders, which I'm fairly certain there must be a few of, is a man. A shirtless man. He's crouched down with his back to me, and he's wearing a pair of huge headphones that look like they came out of the eighties or something. But there aren't any wires, so they must be new. They look clunky. They might explain why he has yet to notice that I'm standing here, gawking at his very bare, very muscled, very tattooed back.
A sun sets over a frozen lake, the watercolor design bright and beautiful; the snow-covered trees hold hints of pink, orange, and yellow, a reflection from the sun peeking through the clouds on its descent toward the horizon. Snow swirls across the landscape, making it seem like the sun is trying to fight its way through a snowstorm. There's script arching over the sun, but it's too small to make out from this side of the room. On his left triceps is an hourglass with only a few grains of sand left in it, as if time is running out.
He's currently laying the floorboards on the other side of the loft. He taps in one of the long pieces, all those muscles flexing deliciously, and then lays another board beside it. He takes a pencil from behind his ear and makes a mark before replacing it.
A moment later he uses his foot to prop up a board and picks up some device with his other hand.
I shriek when it whirs to life and I realize belatedly that it's a saw. The loud noise ceases, and both the board and the saw clatter to the floor.
"What the shit?" The man unfurls from his crouched position, rising to his full and very intimidating height. From the back he's incredible to look at, but from the front—he's just. Wow. He's not a snack. He's a seven-course meal, including the decadent dessert.
His dark hair is covered by a backward baseball cap, the ends curling around his ears and the snapback. His eyes are the color of snow on a moonless winter night, a murky kind of gray that shifts and changes like shadows. His nose is slightly crooked, as if it's been broken and not set properly; his lips are full and ridiculously kissable. He has a scar on his chin, which I only notice because his cheeks and chin are decorated in what I'd guess to be a couple of days' worth of stubble, and a pale, hairless line is evident.
His shoulders are broad, and his chest, defined and thick, has a smattering of that dark-brown hair. His abs ripple and his thick biceps flex as he yanks the giant headphones off. His worn, paint-splattered, and tattered jeans hang low on his hips and are dragged farther down by the tool belt around his waist, exposing that glorious V of muscle, which leads my eye south to the magic wand that is hidden behind his fly.
He will absolutely be starring in my fantasies in the very near future.
Except he won't be angry like he is now.
I quickly drag my gaze back up so I'm not ogling him anymore.
He tosses the huge headphones on the floor. His gray eyes are a storm of shock and annoyance. He motions to the saw at his feet. "I could have cut my fucking foot off!"
"Why would you use your foot to balance the wood anyway? Isn't that unsafe?" What the heck is wrong with me? Since when do I talk back to people I don't even know? But as I look between him and the saw, I realize I have met him before.
Months ago.
I made an ass out of myself then too.
"Are you fucking serious? Rule number one in construction: always, always make your presence known when someone is handling power tools."
"You were wearing headphones. How was I supposed to make myself known when you can't even hear me? Especially over the sound of that thing." I point at the electric saw thing lying on the floor.
"Those aren't headphones, they're ear protection! And all you had to do was knock loudly and say hey, and I would've heard you just fine. The banshee shriek is unnecessary."
"I didn't expect you to be in here! And I certainly didn't expect it to sound like the set of a bad horror movie!"
"Did you not see the truck parked in front of the garage?" He shakes his head and mutters something I can't hear. "Who are you even? And what are you doing up here?" He holds up a hand when I open my mouth to speak. "Wait. Let me guess: you're that new lady from the city that they hired down at the planning department, aren't you? I have permits for everything, so you're wasting your time. You can take your Gaucho-Parade-designer-clothes-wearing butt right back out the door." He points to the door, one thick eyebrow raised.
Gaucho-Parade? Is that some Pearl Lake insult? "My butt does not look like a parade." I pat my bottom, offended, trying to decipher his meaning. Maybe he's referring to Gucci and Prada, neither of which I'm wearing. "And I'm not from the bylaw office. I'm Teagan."
"Is that supposed to mean something to me?" He gives me a look I'm all too familiar with.
It's the one the girls I used to hang out with back in Chicago gave me after Troy broke off the engagement and told me that he and Portia were together.
The one that said that they couldn't wait for me to go away. That they wanted me gone.
"You don't have to be so rude!"
Way to make an even worse second impression than the first one, Teagan, I mentally chastise myself. I'm already embarrassed over the fact that I've scared the crap out of him and could have accidentally caused him to lop off a limb. Now I get to add the humiliation of him not remembering me at all.
I thought our first introduction was pretty memorable, considering how awkward I made things when I told him he had basketball-player hands and made him compare our hand sizes. And when he told me he liked football, I made an even more awkward comment about how much full-body hugging there was in that game.
"I'm Donny's sister. We met last year." I'm not sure reminding him of our previous meeting is going to help my case at all.
"Huh?" He stares blankly at me.
I remember that I'm the only one who calls my brother that, and that it's not his favorite nickname. "Van's sister," I amend. "Last fall. We met. Very briefly. In the driveway." I motion toward the door, as if that's going to help. "You're Aaron. You work with Van's fiancée, Dillion."
His eyebrows lift with something like surprise, maybe because I remember his name and he apparently doesn't recall our introduction at all. "Sorry, I got a shit memory." He rubs the back of his neck and glances at the door. I can't tell if he's thinking about doing a runner or what. But I can say that it makes his biceps flex enticingly.
I wave away the comment and try to do something other than ogle his muscles. "It's fine. Like I said, it was very brief. Anyway, I'm Van's younger sister. He said this place was eighty-five percent finished and that I could stay here for a few days."
"It will be when I'm done laying the floor." He motions to the planks lying at his feet.
"Great! That's just great." I want to do something with my hands, like run them over his chest, so instead I clasp them in front of me. "I don't want to intrude, you know, what with them being recently engaged and all. I know they've renovated the cottage, or maybe that was mostly you?" I don't wait for him to answer; instead I barrel on, powerless to stop my mouth. "Anyway, the walls are thin, and I don't need to hear things I shouldn't."
"Right." Based on his arched brow, that last part was something that should have stayed inside my head.
"I'm going to grab my bag." I thumb over my shoulder.
"Knock yourself out." He turns away, bending to pick up the plank he dropped when I first scared the crap out of him.
In the short time it takes for me to drag my suitcase inside—Aaron does not offer to help—he's covered up all those incredible muscles and his pretty tattoos with a threadbare T-shirt. I put a few things away while he works on the floor.
I know I should probably leave him alone, but for whatever reason, I seem to be compelled to try to make him talk to me.
"How long have you been doing this?" I ask once he's finished cutting another piece of flooring.
"This particular project or this in general?" He taps the board in with a rubber mallet until it clicks.
I wait until he's finished with the saw again before I clarify. "This in general. Have you always worked with your hands? It's obvious you're really good with them."
I get another one-word answer: "Yeah."
Instead of being deterred, I keep asking questions. People love to talk about themselves and what they're interested in and passionate about. So it should, in theory, make him more likely to give longer, more detailed responses. And for a bit it does. He starts going on about the difference between engineered hardwood and regular laminate and how this stuff is better. I have no idea what any of what he's saying means; all I know is that he's talking and I get to stare at his pretty face and listen to his voice.
At least until he abruptly puts an end to my Q&A session. "Look, Teagan, I get that maybe you're bored or whatever, but if you want to have a floor that isn't plywood, you gotta stop with all the questions. I'd like to get this done before midnight."
It's not that I don't understand that he needs to finish what he's working on. It's how quick the shift is and how sharp his tone becomes. Like I've reached the limit of his patience and he's been humoring me this entire time. I give him a tight-lipped smile. "Sorry. I'll get out of your way."
I grab my purse and rush down the stairs, heading for the house and away from Aaron. I don't even know why I'm trying so damn hard to make someone I'm only going to see on very rare occasions like me. He's not worth the effort.