I'm so excited to share this cover with all of you!
GET INKED is a little project I've been working on over the summer. This multi-POV novella will be available on all platforms in ebook On September 15th, so mark your calendars!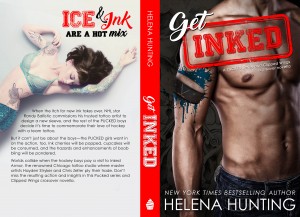 For my PUCKED series fans, I'm bringing the whole cast of characters together again for a little ink and steel action, AND you'll get to meet the sexy tattoo artists Hayden Stryker and Chris Zelter from my Clipped Wings series.
SUMMARY:

When the itch for new ink takes over, NHL star Randy Ballistic commissions his trusted tattoo artist to design a new sleeve, and the rest of the PUCKED boys decide it's time to commemorate their love of hockey with a team tattoo.

But it can't just be about the boys—the PUCKED girls want in on the action, too. Ink cherries will be popped, cupcakes will be consumed, and the hazards and enhancements of boob bling will be pondered.

Worlds collide when the hockey boys pay a visit to Inked Armor, the renowned Chicago tattoo studio where master artists Hayden Stryker and Chris Zelter ply their trade. Don't miss the resulting action and insights in this Pucked series and Clipped Wings crossover novella.
To get a sneak peek of the first two chapters of GET INKED before it releases and receive an email alert when the novella goes LIVE on all platforms, sign up HERE
***Readers who sign up to receive the SNEAK PEEK and the notification email will automatically be entered to win a SIGNED PAPERBACK copy of GET INKED (featuring the e-short Between the Cracks from the Clipped Wings Series) and a SIGNED PAPERBACK of AREA 51: Pucked Series Outtakes & Deleted Scenes***
***SNEAK PEEK will be sent via email on Monday, September 11th***
Add GET INKED to GOODREADS
If you subscribe to my mailing list, don't worry, you'll receive an email alert when links go live for this 25 000+ word novella, plus a sneak peek at PUCKED UNDER (Pucked #5), releasing October 10th, and FRACTURES IN INK (a standalone novel set in the Clipped Wings world) releasing November 14th.
Follow me on AMAZON for new release news.
PRE-ORDER Fractures in Ink