I'm super excited to share this upcoming release with you! Well over a year ago my very awesome author friend Debra Anastasia proposed a very cool idea; write a book with a bunch of other authors.
And thus was born FELONY EVER AFTER.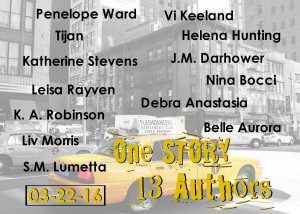 This isn't your typical anthology, it's not a series of standalone short stories.
Felony Ever After is a complete novel, written chapter by chapter, by 13 different authors. What started out as something fun soon turned into a quest to write each other into a corner, leaving the next author to dig out the hole, or make it deeper. Early in the story a box shows up, and as the story unfolded, the box came along with it, until it became one of the central themes. We'd intentionally set the next author up, we'd write each other into messy situations and then see what the next person was going to do.  But the question finally had to be answered: WTF is in the box?
What happens when you take 13 authors and mash their brains together?
You get Felony Ever After.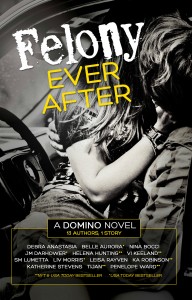 Verity Michaels may be new to New York City, but even she knows riding in a stolen a cab is not a normal way to meet someone. Damn it if that tattoo-covered would-be felon isn't everywhere now, and lighting everything on fire under her skirt.

His name is Hudson Fenn, and he's frustratingly impossible to pin down. He works as a bike messenger, but has the manners of a prince—along with a strange tendency toward breaking and entering. As much as Verity knows he's not her type, and likely to land her in jail, she can't help but find her truest self when they're together.

Can she be brave enough to give Hudson a real chance? Will he be bold enough to reveal the man beneath the ink, or will his secrecy doom their connection? No less than thirteen of your favorite romance writers have teamed up to tell this sexy, wacky, snort-inducing tale. With them, you'll visit the world's most irritating office, a VIP room of questionable cleanliness, and the fanciest apartment a bike messenger has ever inhabited, but you'll still never see this ending coming.
PREORDER Felony Ever After
AMAZON
READ the EXCLUSIVE EXCERPT at Natasha is a Book Junkie
Watch the official TRAILER
ENTER the ARC giveaway on my Facebook Page
Visit the Felony Ever After WEBSITE to read more about the authors!
Check out the Facebook PAGE
Felony Ever After arrives 22.03.16