Who's ready to get PUCKED Up?
Along with the revamping of my website by the amazing Shannon Lumetta–isn't it beautiful???–I'm pleased to report that PUCKED Up, the second standalone novel in The Pucked Series, featuring Miller "Buck" Butterson and Sunny Waters, is now AVAILABLE!
I loved writing Miller and Sunny's story. They were such fun characters to be with, and I sincerely hope you enjoy reading about their adventures, and Miller's challenges as he navigates his first serious relationship with his team captain's sister. Love isn't ever easy, but sometimes unforeseen situations make everything that much more challenging.
Check out this gorgeous cover, also designed by the talented Shannon! Front cover art is from Scott Hoover Photography, and I think it's the perfect representation of Miller!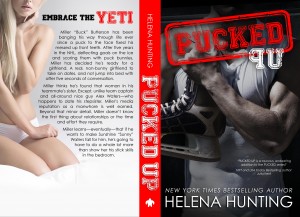 You can purchase PUCKED Up in ebook and paperback format HERE!
Miller "Buck" Butterson has been banging his way through life ever since a puck to the face fixed his messed up front teeth. After five years in the NHL, deflecting goals on the ice and scoring them with puck bunnies, Miller has decided he's ready for a girlfriend. A real, non-bunny girlfriend to take on dates, and not jump into bed with after five seconds of conversation.

Miller thinks he's found that woman in his teammate's sister. Except, unlike team captain and all-around nice guy Alex Waters—who happens to date his stepsister, Miller's media reputation as a manwhore is well earned. Beyond that minor detail, Miller doesn't know the first thing about relationships or the time and effort they require.

Miller learns—eventually—that if he wants to make Sunshine "Sunny" Waters fall for him, he's going to have to do a whole lot more than show her his stick skills in the bedroom.
More news is coming soon about this series, including audio books, translations and next books!
Thank you to all my readers, the bloggers, friends both inside and outside of the writing community, and my amazing family for all your support on this journey. I couldn't have done any of this without you.
I'll have an interest form for signed copies soon, which I'll be sure to post as soon as it's ready.
Love and gratitude,
Helena