I'm so thrilled to share this hot new anthology full of brand new, steamy short stories from some of your favourite romance authors!
There have been questions as to whether I'll be writing more of the Little Lies crew. The answer is yes. I'm working on Maverick's book, BUT to tide you over, I wrote a hilarious and steamy novella featuring Lavender, Kodiak and the Pucked gang and it's part of the A Year of Love anthology!  So you can catch up with them while you wait for more news on Maverick and the audio of A Kiss for a Kiss (which should be coming before the end of the year)! 
Which leads me to . . . .
Need some sexy, steamy shorts to get you through to the holidays? 12 of your favorite authors have come together to bring you stories of love throughout the year with a FREE collection of ALL NEW romantic (steamy, sexy, paranormal, dark) shorts stories! This anthology is available for a limited time, so make sure you grab your copy today! All you have to do is claim your FREE book. 
Then sit back, grab a glass of wine/coffee/hot chocolate/beer and lose yourself in these short stories!
~xo Helena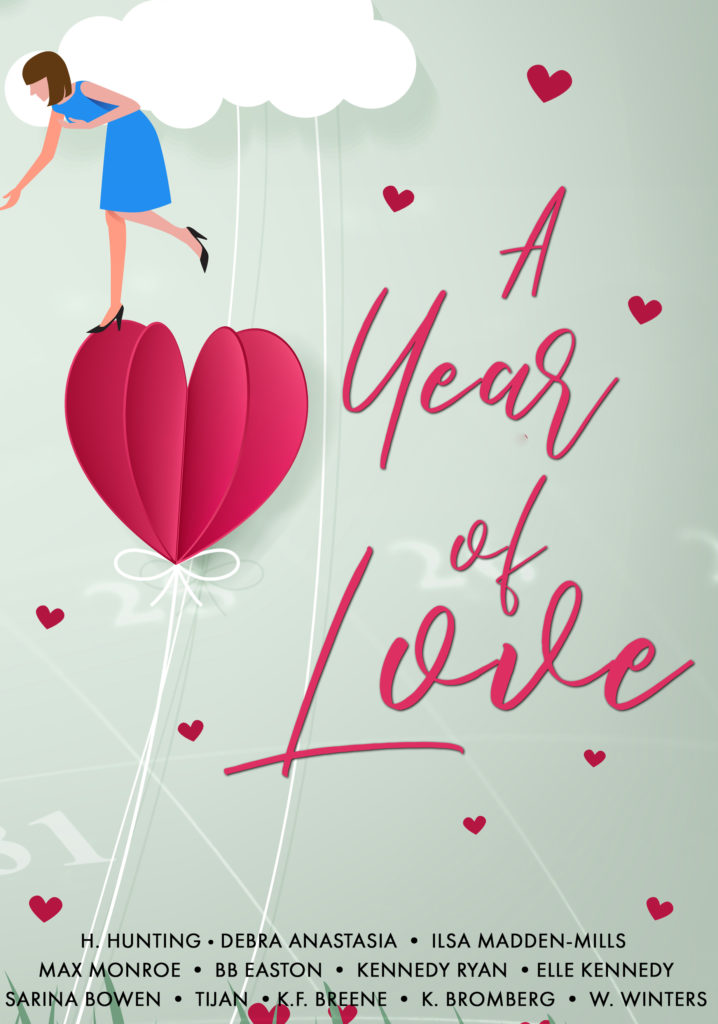 Fall in love all year long.
12 months.
12 authors.
12 short stories to make you swoon.
JANUARY – RINGING IN THE NEW YEAR by H. HUNTING
Secrets are shared, awkward conversations are unavoidable, and shenanigans abound when the Kids of Pucked get together for a New Year's celebration.
FEBRUARY – SKATING ON THE STARS by DEBRA ANASTASIA
Asking her to marry him is the easy part, but Gaze needs everything to fall in line this Valentine's Day. Pixie Rae deserves the best, and a wild racoon has no part in the beginning of their forever.
MARCH – BUTTERFLY, BROKEN by ILSA MADDEN MILLS
When Everly wakes up at Crystal Lake Academy, she has no idea how she arrived at the strange college. When a threatening letter appears, she seeks the help of the most ruthless gang at Crystal Lake. They'll help her for a price.
APRIL – APRIL FOOLS by MAX MONROE
My April Fools' Weekend beach getaway was only supposed to include three things: relaxation, wine, and fun in the sun. Something it absolutely wasn't supposed to include: The bane of my teaching existence—Mack Houston—walking in on me in the shower.
MAY – OPERATION: MILE HIGH CLUB by BB. EASTON
An all new sexy, hilarious, (mostly) true story from BB Easton, author of 44 Chapters About 4 Men, the memoir that inspired the #1 Netflix series Sex/Life!
JUNE – FREE TO LOVE by KENNEDY RYAN
Mere weeks from my wedding, I don't have jitters. I have a future mother-in-law making everything obnoxiously bigger. The guest list. The band. The pain in my . . .you get the picture. My sweet, hot, sexy fiancé better fix it or there may not be a wedding at all.
JULY – WEEKEND FLING by ELLE KENNEDY
Getting stuck with her brother's annoying girlfriend and his sexy best friend is not at all what Kate had in mind for her family weekend getaway. But sometimes, the unexpected can be exactly what you need…
AUGUST – TRAINING CAMP by SARINA BOWEN
Do an internship with a professional hockey team, they said. It will be fun, they said. Too bad I'm terrible at my job. Until the rookie defenseman offers to help…
SEPTEMBER – NO DRAMA, SERIOUSLY by TIJAN
Mara only wants to be a normal college student. No drama.
Too bad that her family might not let that happen. And who is Cruz?!
OCTOBER – POSSESSION by KF BREENE
When a deliciously sexy demon tricks Jaelyn into showing up at the hottest and most dangerous Halloween party of the year, she must confront him and her past if she hopes to survive.
NOVEMBER – FOREVER MORE by K. BROMBERG
When Lyric Evermore crashed Angie McIntyre's all-alone-on-Thanksgiving pity party four years
ago, she never could have imagined it would be the start of their own annual tradition. Nor did
either of them know, it might be the start of something more meaningful . . .
DECEMBER – MY SECRET by W. WINTERS
She's my secret. Mine and mine alone.