THE TWO YEAR PUCKIVERSARY OF PUCKED IS COMING MAY 3RD!
So clearly we need to celebrate, right? I could give away some books, but then only one person gets something cool and everyone else sits around and hates on the person who won the books, or the things, or whatever it is I give away. So instead I decided to shake things up a bit. First and foremost, I decided that instead of using my website in a super-professional capacity (which is typically how I approach this blog) I'm just going to be myself. I can be professional later this week when I'm at The Romantic Times Convention, talking to publishers and editors.
I assume most of the people who subscribe to my website are my readers, and if you're in my reader group over on Facebook you already know I'm not usually the serious type. You might also know this if you've read PUCKED. And if you've met me, well, sorry about that.
Back to celebrating the 2 year Puckiversary of PUCKED. I figured, hey, what's a good way to celebrate this crazy book? How about a Violet and Alex outtake! AWESOME! Just a short one. Like 2k. Yeah, right. Since when have I ever written something that's 2k? So nearly 9k later I have an outtake which I named ENDORSE THIS. In hind sight it should probably be PUCK THIS, but I'm not changing it now.
It's a FREE outtake. WHAT? FREE? There has to be a catch!
There isn't. It's free. Okay. Maybe there's a small catch. You have to subscribe to my NEWSLETTER to get the outtake. I promise not to spam the crap out of you with pointless emails. Usually I send out one a month with new book news, promotions, exclusive teasers or excerpts (or a 9k outtake like the one coming on May 3rd) and I tell you about all the books I've read, or like, or author friends who have new books out who I want to push on you.
SUBSCRIBE TO MY NEWSLETTER HERE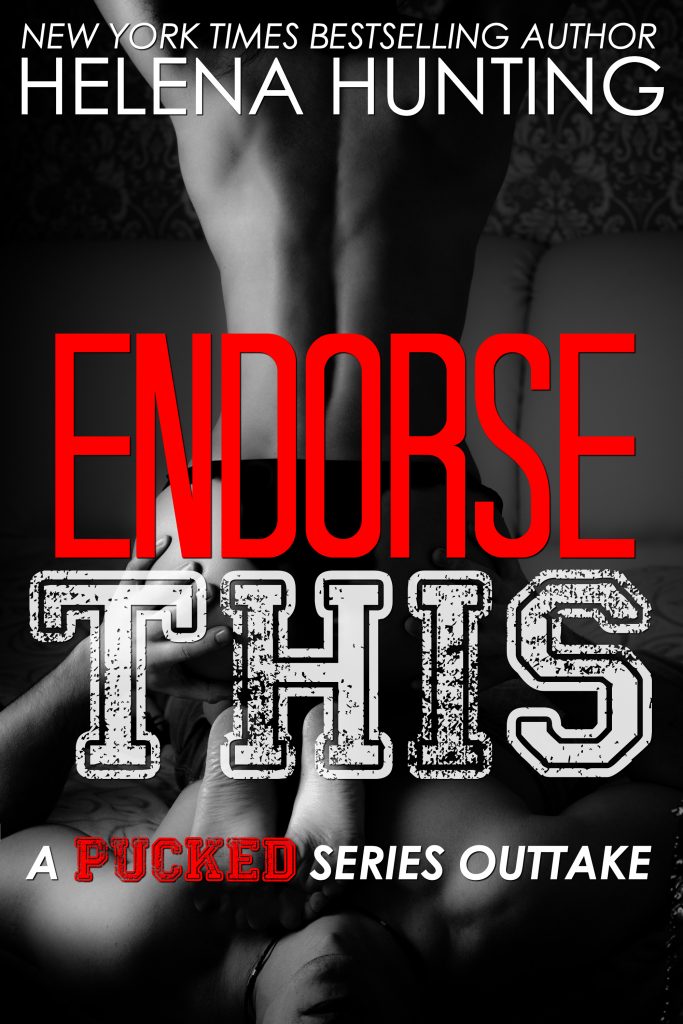 So what's this outtake about? Alex and Violet, of course.
Am I going to tell you more than that? Nope. All you need to know is that's it's crazy, and there's AREA 51 talk, and Violet is completely unfiltered as usual, and Alex is his hot self. Oh, and there's smut. Of course. *rolls all the eyes* Since when do I write non-smutty outtakes? Sheesh.
Here's a small teaser to make you ask all the questions:
She grips it in her fist and shakes her hand in front of my face. "Look at this!"

"I'm looking, baby." My voice is low, gritty—I suppose she's right about my tone when we're discussing things like this.

She glares at me. "Don't sex voice me right now, Alex."

"I'm not sex voicing you on purpose. You were just touching me, I can't help that it makes me excited."

"It's the Area 51 talk that's making you excited."
Now for the practical part of this post. I know that some people get concerned about the newsletter sign up.
What if I do it wrong?
What if I don't get the outtake?
Why do you have to make things so difficult?
Below are step by step instructions with visuals (because I'm a visual learner and I like to be able to SEE that I've done it correctly).
Step 1:
Subscribe to the Newsletter. Put in a valid email address (yahoo seems to be tricky for some reason). Tick the  box (you are acknowledging I'm not spam). Hit the subscribe button.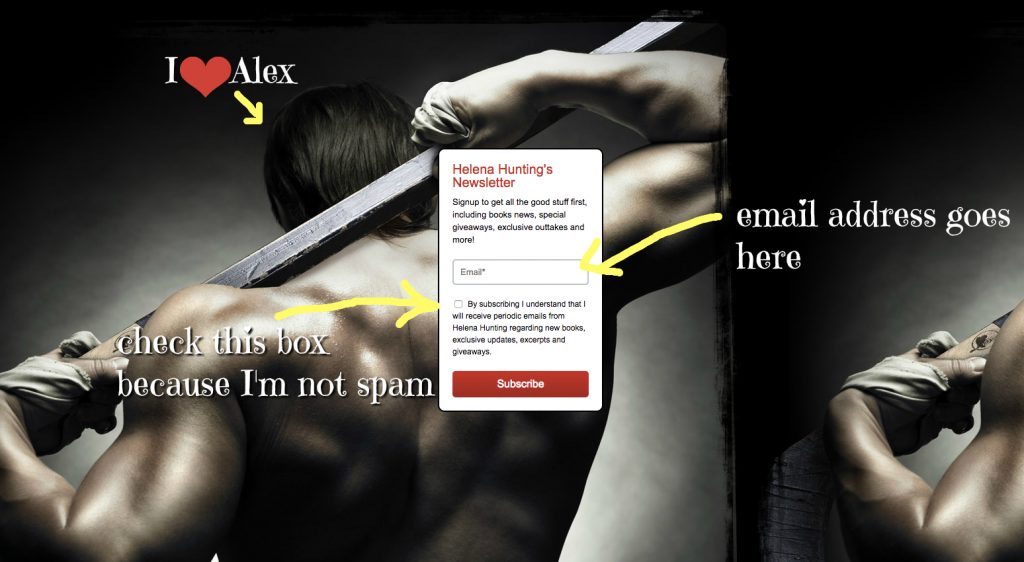 Step 2: BOOM! You're subscribed! BUT WAIT! It's not that simple (don't ask me why it's not, it just isn't). There's another step. Don't celebrate yet!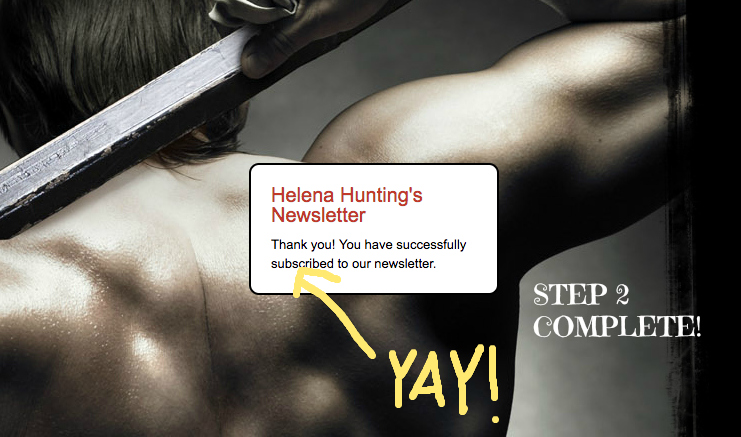 Step 3: Go check the email account you signed up with. You'll find an email from Helena Hunting Books (helena@helenahunting.com) with the subject Please Confirm Your Subscription. If it's not in your primary folder check promotions or spam or search for the email above. If you don't find the email you might need to try again. I know. So much freaking stress over a subscription. It's okay. You're almost there.

Step 4 and 5: Once you locate the email, open it. Don't worry. Nothing bad is going to happen. There is a button you must click. This is SUPER IMPORTANT. The world will end if you don't click that button. Okay, no it won't, but if you don't you can't get the outtake, and I want you to have it, so click the button. (Please note the classy circling of the button).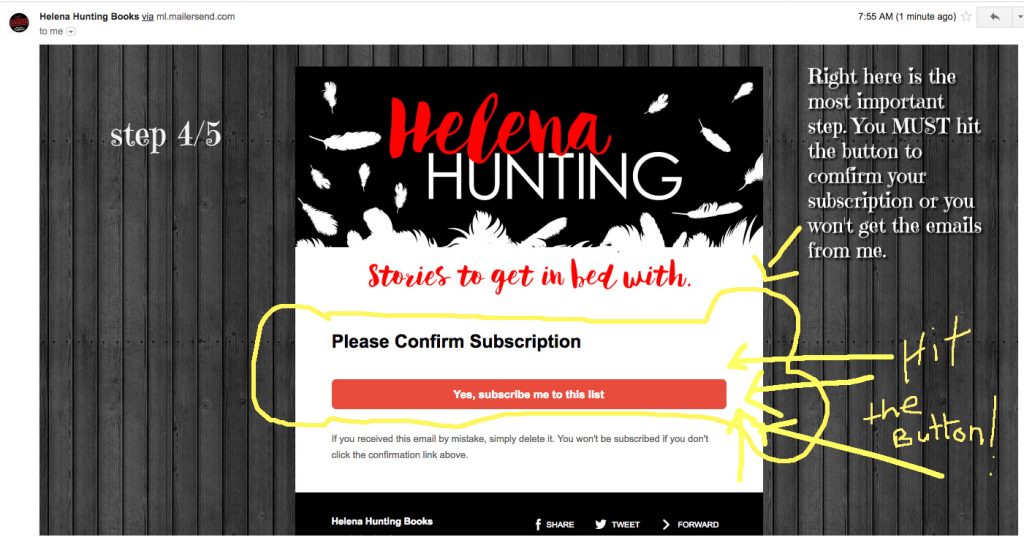 Step 6: SUCCESS! Celebrate your technical savviness! You are subscribed. Now you just have to wait until May 3rd around 10am EST for an email to appear in your inbox from me with the dedicated download link to the outtake (you'll be able to read it on your favourite ereader or device). Woohoo! Go celebrate with a glass of wine or seven.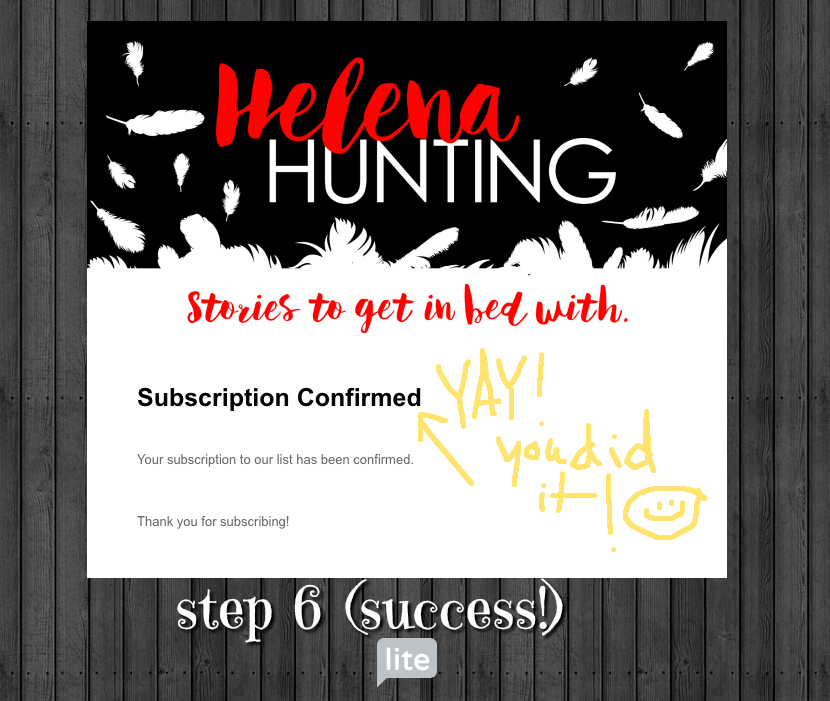 Typos mean this wasn't posted by robot Helena. It means real Helena slapped this together, read it over once, forced her PA to read it, too, and then let it fly. Neither of us is perfect, but my PA is close. <3
~Helena
Did you know… I have a NEW STANDALONE romantic comedy coming out at the end of this month?
SHACKING UP is funny, sexy and full of panty melting hotness (at least this is my spin on it).
Don't believe me? Here's a sample . . .
I prop a hip against the counter and cross my arms over my chest. "Hasn't anyone ever told you it's not polite to ogle?"

His gaze lifts to mine and he leans in close, voice dropping to a whisper as if he's about to tell me a secret. "I'm not always polite."

Oh God. I'd like to experience his not polite all over this condo. Right here on the kitchen island would be a good place to start.
Check out rest of this EXCLUSIVE excerpt over at HEROES AND HEARTBREAKERS